Most people like taking a shower at high-pressure since it's incredible and makes the cleaning tasks much easier. But if your water is coming at low pressure, then you'll need a shower faucet set that will supercharge them to flow at that optimum speed. The good news is that there are shower faucets explicitly designed to take water away from any source and bring them to you at the top pressure and standards.
Therefore, you won't have to complain about taking a long time while washing your hair or taking a bath. Low-pressure shower faucets usually have less number of finer holes that will increase the water flow strength. Some are also adjustable, offering you numerous spray options to enable you to pick one that satisfied your needs.
Top
3
 Low-Pressure Shower Heads of 2021
Well, if you're looking for a shower head that'll generate top pressure in your bathroom, then this is the best choice. It comes in a matte finish and a modern design and elegance that'll spruce your kitchen looks. Besides, it was manufactured with top-quality materials to increase its durability. Its valve system is also of the desired quality and does not leak over time.
Besides, the entire system has a pressure balancing valve cartridge with a device for adjusting the pressure and temperature. Therefore, you can set the ideal temperature for the children or the elderly. It has a 1.5-meter hose that increases your flexibility when bathing. Besides, it's easy to install and comes prepackaged with all the required tools. And don't forget that its resistant to scratches and corrosion, ensuring it looks flawless at all times.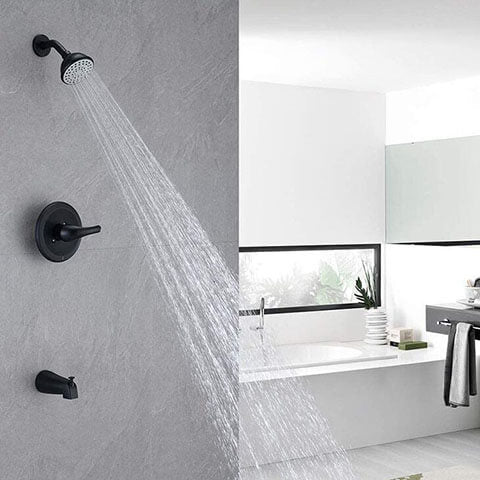 If you are looking for a budget shower faucet, then I'll recommend this balancing shower system from Homelody. It has a sleek, elegant design and features a concealed installation to give your bathroom that neat look. More so, it's manufactured from high quality brass that does not leak or burst even under extreme temperature conditions.
It's also resistant to some acids, alkalis, and high pressure and is compliant with the set US standards. You can use this faucet in different environments as its durable, and the brass also doubles as a sterilizer. This means that the water found inside the faucet will not breed bacteria. You can use this showerhead either with your hand or fix it permanently overhead.
Besides, it has a pressure balancing function that optimizes the temperature of whether if there is sudden hot or cold water into the faucet. That way, if the children or the disabled are bathing, then they won't experience sudden changes in water temperature. Also, its nickel surface is resistant to both corrosion and scratches, while the touch-clean spray holes enable you to quickly get rid of lime or calcium build-ups by wiping them away with your finger. Therefore, you won't need any chemical cleaning agent to get rid of the scales build-up in the faucet.
Though it's the last item in our review, this showerhead combines elegance and functionality at a go. Besides, it is ideal for a group of users as it comes with five sprays. It gives you a gentle downpour in the bathroom with a steady and soft spray that soothes your skin and helps you ease pain and leave you feeling good. Start your day with a shower from this matte black shower made from brass. Brass is a truly hardy material and ensures there is no leaking of this system even under extreme cold or hot temperatures.
Besides, it has a water pressure balance that ensures optimum temperature for showering at any time. That way, if its summer, then it'll help you get cold, and if winter, it enables you to get warmer. You also have five spray modes of sprays allowing you to choose the pressure that you desire. Finally, the entire shower head is made from durable and corrosion-resistant materials that will last for a long time after purchase.
The best shower faucets for low water pressure will help you get a powerful and soothing spray that'll improve your shower experience. Besides, there is a vast assortment of these faucets, and they'll help you conserve water without reducing the pressure.